Crane Weinman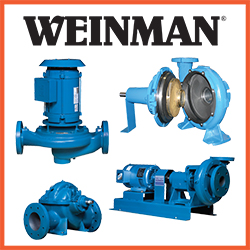 Weinman's versatile pumps are heavy duty, general purpose centrifugal pumps with heavy wall castings suitable for many commercial, industrial and municipal needs. Applications include condenser, chilled, and hot water systems in HVAC, process secondary pumping, and municipal drinking water. High efficiencies, robust case construction of cast iron, and impeller construction of bronze makes these pumps an ideal selection for applications that require easy-to-maintain, reliable, long lasting pumps.
Weinman Suction Diffusers

The Weinman suction diffuser is designed to reduce space and installation costs by replacing a long radius elbow, strainer and extended entry pipe on the suction side of the pump.

Weinman Triple Duty Valves

The Weinman TD valve is a combination pump discharge valve which functions as a shut-off, check and calibrated flow balancer. Available in sizes 2″ through 12″ with ductile iron body.